Part of any senior project will always involve research. Part of this research will go into other similar or competing products that our project will meet commercially. Our robot is aimed towards Police and Military markets, so here are some products currently being used or are being developed.
"Packbot"

"For instance, when tricked out with the Explosive Ordnance Disposal, or EOD, Kit the 'bot can seek out and find improvised explosive devices (IEDs) while the operator is at a safe distance away. The base is fitted with spool loaded with 825 feet of optical fiber and a wide-angle drive camera with multiple positions for forward, rear and downward views.
The EOD kit comes with an ICx Fido explosives detector. The detector can sniff out explosive vapors and other particles emanating from munitions and IEDs."
"Dragon Runner" - Scout

"...the Dragon Runner is a small, lightweight, portable mobile reconnaissance/scout robot (or "bot"). At 15.5 inches long, 11.25 inches wide and 5 inches high, it is a tough low-lying/low-observable ground sensor.
It's designed to withstand being tossed over walls, chucked out of windows, and heaved over stairs, and then sent on its way, looking for bad guys.
A nonactive, invertible suspension and durable overall construction allow Dragon Runner to withstand a whole lot of physical abuse and continue to operate no matter how it lands."
"BEAR" - Battle Extraction Assist Robot
"BEAR is able to go where humans cannot, or should not, go -- that includes everything from minefields to firefights, and near toxic chemical spills to inside structurally compromised buildings.
A combination of three things makes BEAR so special: its powerful hydraulic upper body, two independent sets of tracked "legs" that make it especially agile on rough terrain, and dynamic balancing behavior."
"Mini Andros" - Bomb Bot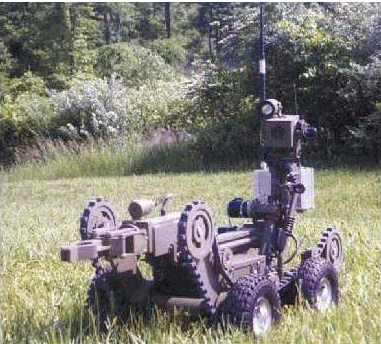 "This robot has all the features required of a good bomb disposal robot. It has a camera coupled with a strong light. The knobby tires and the tracks should provide very good stability and rough terrain capability. Finally, there is a sturdy manipulator on the front. The robot uses this manipulator to pick up the bomb and then uses the mobility platform to move the bomb to a remote location where it can be safely destroyed by secondary explosives. All of these activities are telecontrolled by a remote operator."